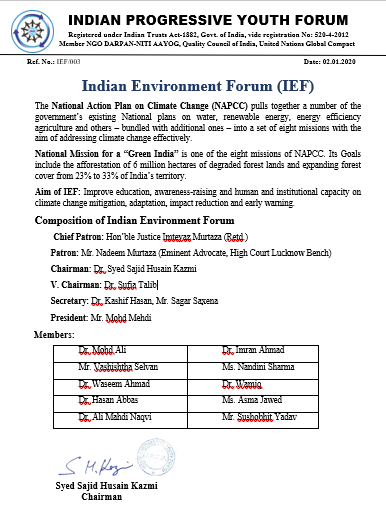 Indian Environment Forum (IEF)
---
The National Action Plan on Climate Change (NAPCC) pulls together a number of the government's existing National plans on water, renewable energy, energy efficiency agriculture and others – bundled with additional ones – into a set of eight missions with the aim of addressing climate change effectively.
National Mission for a "Green India"

is one of the eight missions of NAPCC. Its Goals include the afforestation of 6 million hectares of degraded forest lands and expanding forest cover from 23% to 33% of India's territory.
---
Aim of IEF:
Improve education, awareness-raising and human and institutional capacity on climate change mitigation, adaptation, impact reduction and early warning.
---
      

Composition of Indian Environment Forum
               

Chief Patron:

 Hon'ble Justice Imteyaz Murtaza (Retd.)
                Patron:

Mr. Nadeem Murtaza (Eminent Advocate, High Court Lucknow Bench)
               IPYF Chairman:

Dr. Syed Sajid Husain Kazmi (Clinical Psychologist)
                V. Chairman:

Dr. Sufia Talib (M.B.B.S)
                Secretary:

Dr. Kashif Hasan, Mr. Sagar Saxena
               Chairman:

Mr. Mohd Mehdi
---